How have you kicked off your 2016? Are you sticking to your New Year's resolutions? I let go of making resolutions a few years ago and just stuck to doing my best, whether it's to losing some pounds, making healthier choices, or being a little more 
confident
with myself. Last week we ended off the year exercising and going to the park to run up and down the hill. I will confess I didn't have the same energy I once had, I tired quickly, the kids passed me up so fast I went ahead and decided I'd be the one taking the pics instead lol! I couldn't pass up on taking pictures of their fun moments.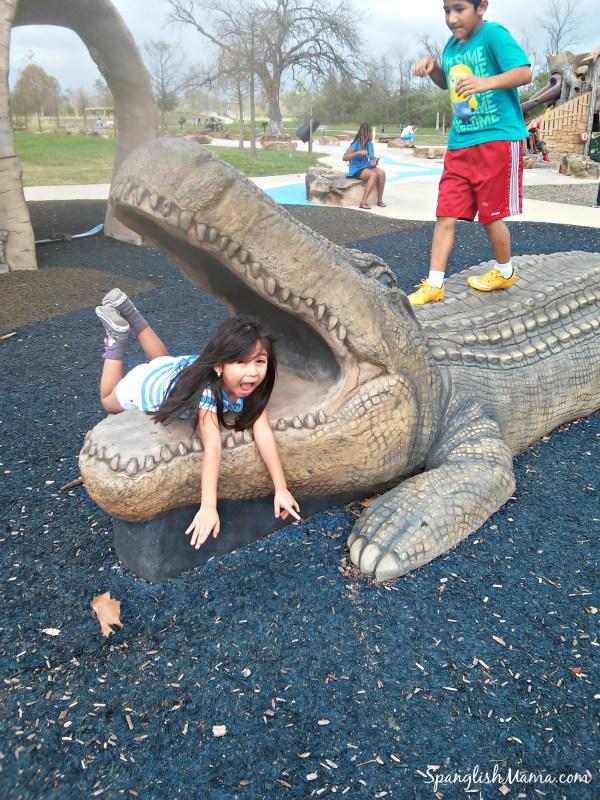 Now when Naty told me to take a picture of her inside the alligators mouth I laughed so hard when I saw the picture, I had a "LBL moment", better known as
Light Bladder Leakage
, yikes! Kinda embarrassing, but I'm somewhat used to it by now. You see ever since I gave birth to my 5 year old, I've had to become accustomed to crossing my legs when I cough or sneeze, when I laugh so hard at moments like these, it's my norm now as a mom. Do I love it? No way! But I learned how to deal with it, and not make it so noticeable. I could do the same activites the kids do without them or anyone else noticing I just had a #MyPoiseMoment.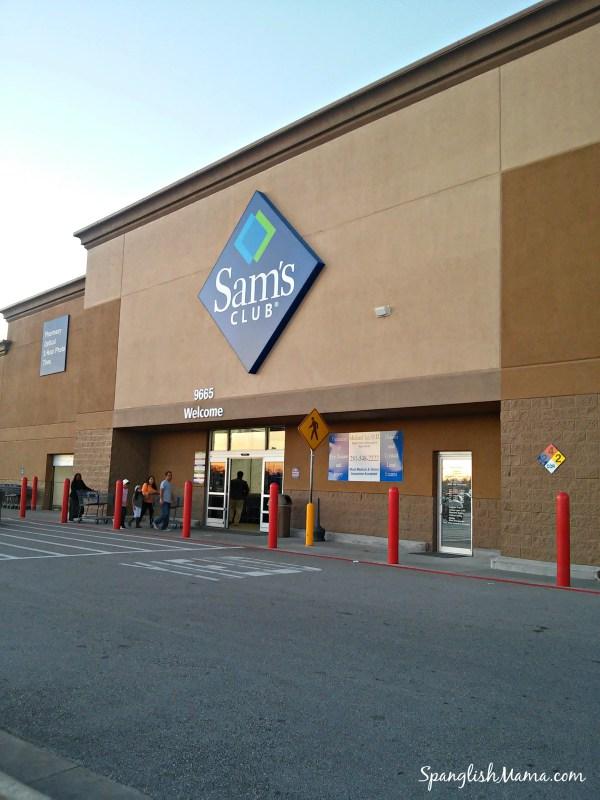 The one place I love shopping at for all my family's essentials is Sam's Club, and since I'm a member, I get instant savings on alot of products my family and I use on a daily basis. Like the oh so embarrasing pads no one likes talking about… by the way have you ever sent your hubby out to buy some pads for you? The first time I asked mine to run that little errand for me he looked at me like I was crazy!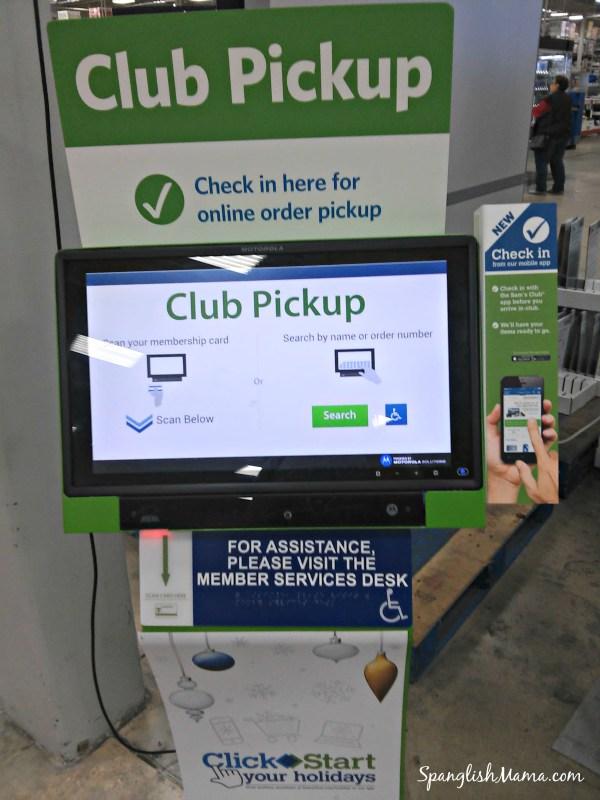 With a Sam's Club membership, not only can you shop and  order in the privacy of your home or office, but right as you walk into the store just scan your membership card at the 
Club Pickup
 kiosk and you're ready to head home with all of your purchases. There's even discreet shipping with Subscription Service, just in case hubby doesn't want to run that errand for you.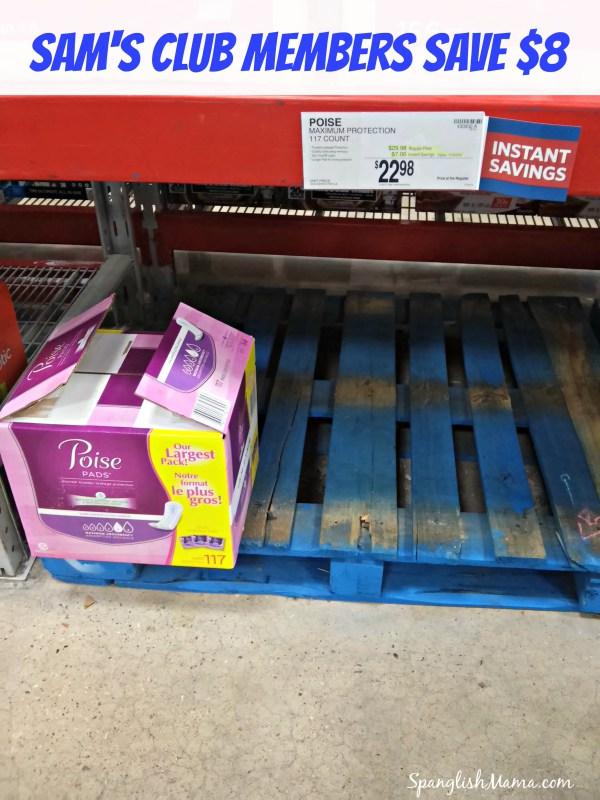 Have I told you how much I love savings?! At Sam's Club you really do get your money's worth on get products. Poise® has been one of those wonderful products I love using when on my days. And it seems many women agree, becasue as you can see, there is only one box and it's open! Geez! I had to ask a store associate for some help, good thing they had 37 on hand, hooray!
Poise® Maximum Absorbency Pads
provide absorbency, and give me the confidence and protection I need. The Absorb-Loc® core quickly locks away wetness and odor,  the Leak-Block* sides give discreet and worry-free protection. The Dry-Touch® layer helps keep me feeling dry and fresh. Specifically designed for Bladder Leakage.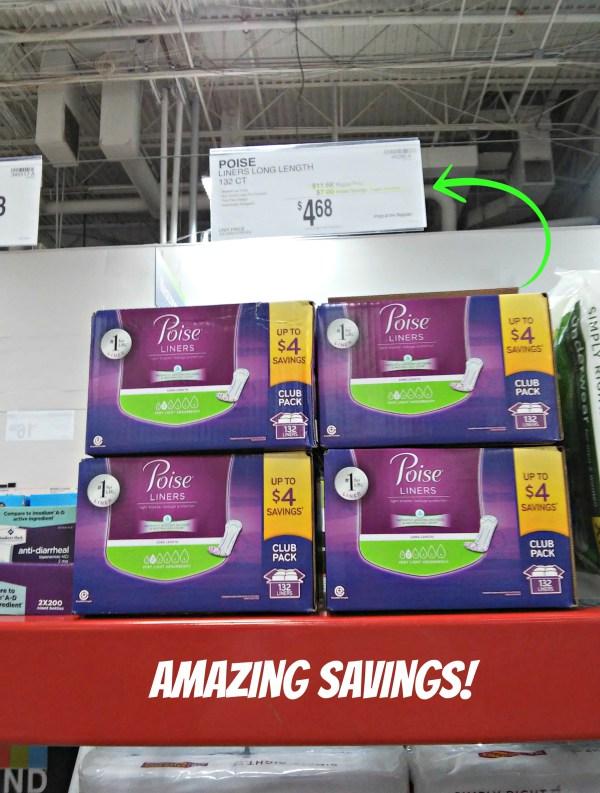 When I was younger in my early 20's I thought Poise® was for older women, I didn't even know what Light Bladder Leakage was, it was all so new to me. Poise® gives me the confidence I need to go out to the park or wherever the fun is and play with the kids, and that's because the
Poise
®
panty liners
stay
3X drier
than leading regular size feminine care liners where needed most because they are specifically designed for Light Bladder Leakage (LBL). The Absorb-Loc core quickly locks away wetness and protects against incontinence odor to help keep you fresh and dry. An now they're THINNER, but with the same protection.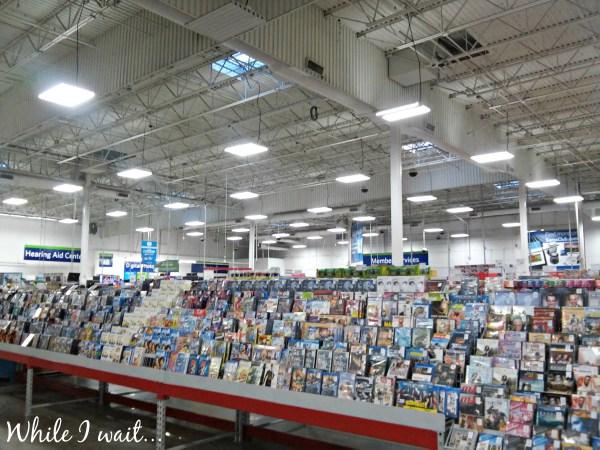 So while I waited for a new box of Poise® pads to hit the shelf I decided I'd check out the book and DVD section, since I always want to see what they have in stock. Who know's I might just find a great funny movie to watch with the kids and laugh so hard I might have another of
#MyPoiseMoment
, although I won't sweat it I have my liners to back me up
.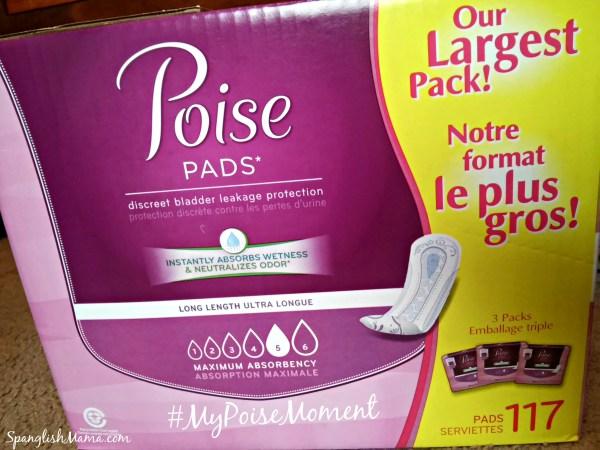 Fuente:
este post proviene de
Mama Tex-Mex
, donde puedes consultar el contenido original.
Creado: